Promoting The Arkansas Craft School's Sustainability Weekend and Finnegans Wake Concert, with a little hurdy-gurdy playing.
<iframe width="420″ height="315″ src="http://www.youtube.com/embed/BwXf2sxJAts" frameborder="0″ allowfullscreen></iframe>
GETTING RESOPHONIC: John Van Orman.
by Jim Harris and Max Brantley @ArkasasBlog
Riverfest is always tuneful. But it could have been argued last year, on the Memorial Day festival's second night, that the best concert in Arkansas was some two hours away, up in the hills of North Arkansas. Just a little ways outside picturesque Mountain View, with its stone buildings around an old-fashioned square, and just up the hill a piece from Jimmy Driftwood Boulevard, the incomparable dobro player Jerry Douglas — the guy whose name is featured on the billing every time you see Alison Krauss and Union Station — was holding forth with his talented Nashville-based acoustic band. Douglas' show, in front of nearly a thousand folks at the Ozark Folk Center theater, was part of the center's Resophonic Guitar Festival weekend, a celebration of an old instrument that was influential in the development of Southern blues. It evolved into the popular country instrument, the dobro. Of all the instruments John C. Van Orman plays — and he's well-versed on a variety of string instruments — the resophonic guitar (which looks like somebody jammed a hubcap onto a guitar) is one of his favorites. He created the resophonic festival…
Siberian Exchange:
On Tuesday, February 15, Ozarka College, in conjunction with the Arkansas Craft School, held an event for students in an Introduction to Russian Culture course offered this semester at Ozarka in Mountain ViewThis event, a Maslenitsa celebration, provided students an opportunity to experience a variety of foods and cultural activities associated with the Russian festival preceding the time of fasting which leads up to Easter. Maslenitsa in Russia is similar in comparison to what most Americans recognize as Mardi Gras.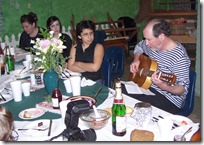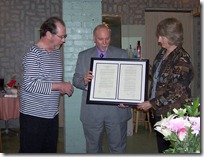 Ozarka's Vice President for Academic Affairs, Dr. Michael Delong attended the event and was presented a framed agreement which was entered into last year between Ozarka and Gorno-Altaisk State University (GASU). GASU is located in the Altay Republic of the Russian Federation. Faculty and staff members of Ozarka College and GASU have worked in partnership to allow students to engage in cultural exchanges between the two institutions.
Russian music was provided by Anthropology instructor for this course,
John Van Orman
who plays 7-string guitar. Toasts were made to Lady Maslenitsa, a straw effigy representing winter; and Director of the Craft School, Terri Van Orman, who served as hostess for the event…
 And coverage for this event, from the "Community College Week."
MOUNTAIN VIEW: Teacher restores art of building pirogues
This article was published June 20, 2010 at 3:06 a.m.
THREE RIVERS AREA — It's a small, flat-bottom boat that is great for navigating in shallow water. John Van Orman of Mountain View said he remembers seeing these pirogues on almost every farm as he grew up in the Midwest.
Going on to pursue his education in music and anthropology, Van Orman often thought about those little flat-bottom boats. He got his master's degree in Russian, East European and Eurasian studies from the University of Kansas. He focused his studies on the music traditions of the Turkic-speaking people of Siberia.
"I noticed the last couple of decades, these boats have vanished," Van Orman said.
He said he developed a love of woodworking at a young age from his grandfather. In 1976, Van Orman started building folk-music instruments, and he worked at North American Carousel and Cart Manufacturing Co., where he was a design engineer and shop foreman. He built historical replicas of wagons, amusement rides, artillery, stage sets and signage…
http://www.arkansasonline.com/news/2010/jun/20/mountain-view-teacher-restores-art-buildi-20100620/